Flat out.....
First things first, check the dust extractor, its been a while since I emptied it... oops !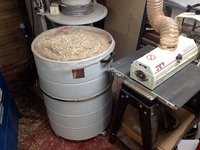 Once I get that sorted, I start on fingerboards for a new project, at first things go well and then the CNC machine does something odd... so I have to cut another couple of boards cos I need 5 in total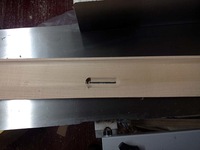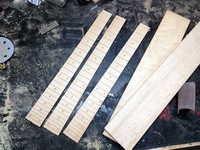 eventually I discover the issue with the CNC and crack on with the fingerboards, then I get them inlayed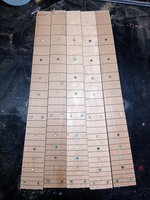 I make a start on the necks, getting them all glued up and while they are drying, I cut the bodies.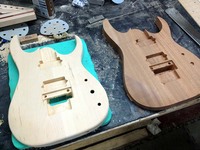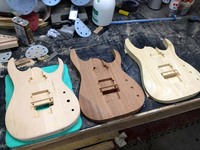 I have had some one piece basswood body blanks laying around for about 8 years, they are perfect for this project but are an odd shape..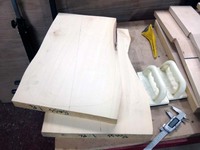 So I cant bolt them down on the bed of my CNC.. so I knock up some rudimentary mill clamps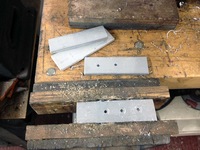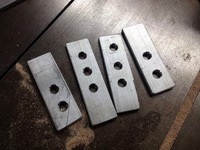 and they do the job perfectly.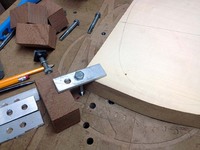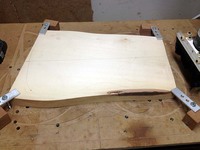 Time for a cuppa while I try to dig out a nice piece of pau ferro for a customer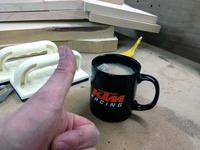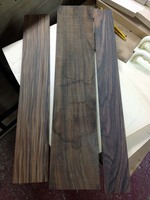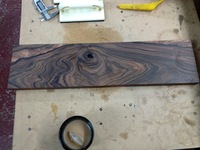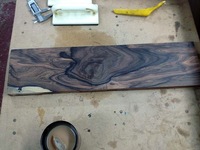 with the front of the bodies cut, I get on with sawing the neck blanks.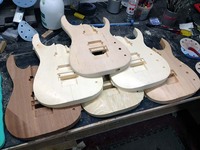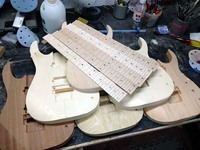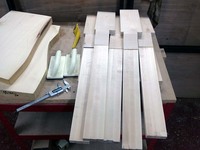 of course, this isnt all happening on the same day... next up, routing the backs of the bodies until they are all done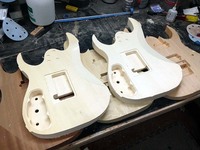 then the neck blanks get planed dead flat and I route the truss rod channel and mark up the perimeter to take over to the bandsaw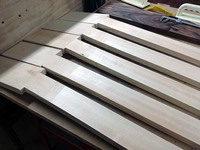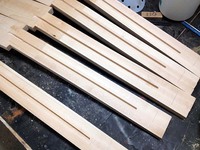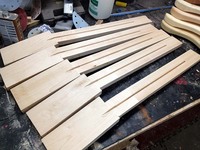 I bandsaw the rough shape and then cut the headstock and drill the tuner holes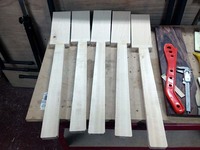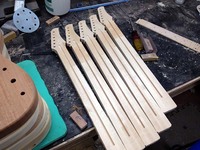 and slowly get them all shaped and carved before inserting truss rod and gluing up.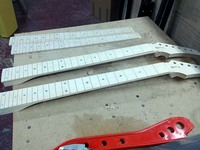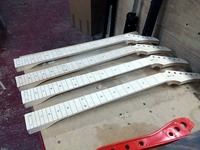 well, I have a stack of bodies to deal with while the glue dries.. I need a router table to get the roundovers done but its crammed away in the corner with no permenant place... I have a bench I can use that also has extraction above.. bonus ! so I place the table and think about how to extract.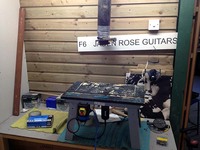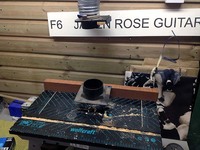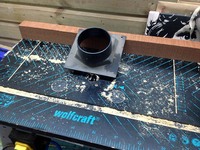 then when I think I have it sussed, just like the scene from pulp fiction, I find a better extractor hood and get that on !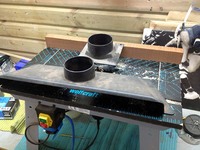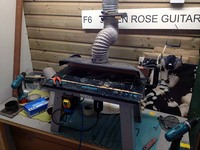 I give it a shot with all the bodies and it extracts perfectly... sweet !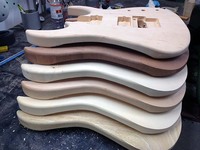 next up, sanding all the bodies, ready for paint.. i get started on this one but ive had enough for now, more later !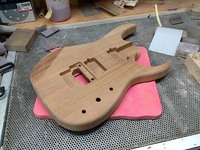 J.
← Back to Diary